Can you imagine what it must be like to want to see a tornado your entire life and on the very FIRST day of your tour you get within 1/4 of a mile from one? That is exactly what happened to this tour group – and a great group they were!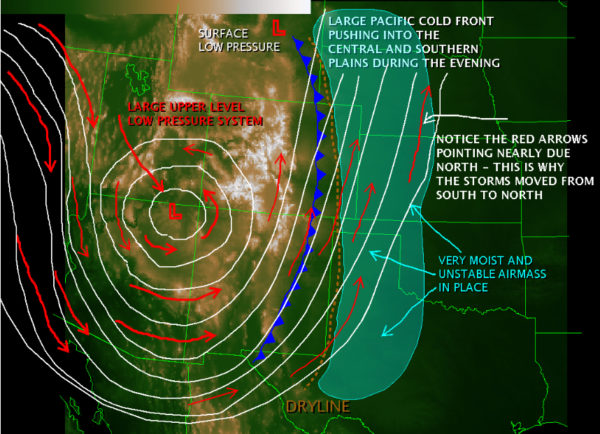 Tour 2 started off bright and early, actually, it was 4:30 am so it wasn't so bright…
We wanted to get an early start because this day showed all the signs of a potential tornado outbreak from the Texas panhandle up through extreme western Kansas.
A large upper level low pressure system (cut-off low) was positioned over Arizona providing Southerly flow in the upper levels. The dryline was positioned along the Texas/New Mexico border, and a pacific cold front was pushing through Eastern New Mexico.
By mid-afternoon, we began narrowing down our target area in the Texas Panhandle. A few hours later, we had one of the most beautiful tornadoes that I have ever seen on the ground and less than a quarter of a mile away from us.
Just as the tornado formed we had to move our position a little in order to get out of the tornado's path and what happens? A flat tire!
So, we outran this tornado on 3 tires and a rim and were unable to pursue after it. This storm continued on and did cause damage to the town of Cactus, TX about 20 minutes after it first produced this tornado. Meanwhile, we were alongside the highway changing out a flat tire.
The following day, we got the tire fixed – remounted the spare tire and set ourselves up for a possible tornado outbreak on the 23rd of April (which was insane!).
NOTE: I want to personally thank Dr. Tom for being a great sport while chasing with our second tour group. He made a wager on our first day that if I could get the group a tornado on the first day that he would shave his head. Long story short (in case you don't read all this) we intercepted a beautiful tornado between Vega and Dalhart, Texas near Boys Ranch and Dr. Tom kept his word and allowed one of our tour guides to give him a little haircut….(okay…we bic'd it!). Tom, as always – you are da' man! You made this tour funny, exciting and I look forward to chasing with you in the future.
---
---