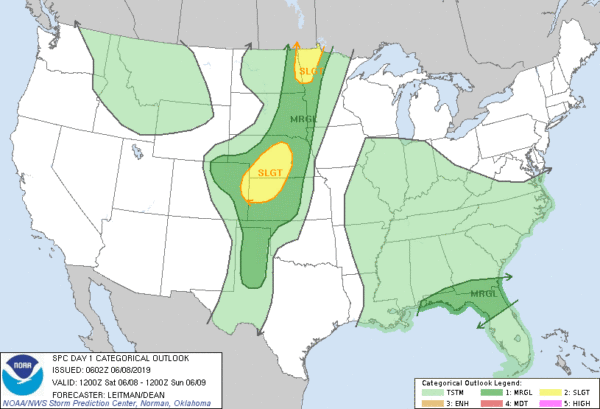 June 8th allowed us to continue our tornado streak for each tour of the 2019 season. Today's landspouts were not the same type of tornadoes the other tours saw, but they were more photogenic.
After a chase day in eastern Colorado, we started today's chase in Burlington. A potent shortwave trough would shift east from the Rockies into the Central Plains. There was southwesterly mid-level flow of about 40-knots that overspread much of the plains into the Dakotas. The dewpoint temps ranged in the mid-60s ahead of a surface boundary where temps were warming into the upper 80s. As a result, a corridor of decent instability ahead of the cold front developed by midafternoon.
After departing the hotel, we took a short trip into Colby, KS. While at the gas pump, the first tornado warning was issued. The storm developed from our origination point near Burlington. After topping off the tank, we drove back towards Burlington while observing that no tornado was present.
We pulled off the interstate at Goodland, KS to monitor the storm as it passed by. Soon afterward, a new area of interest developed just to our west, still over Colorado and within view. After watching for about an hour, a funnel descended from a flat base just to the north of Goodland. Soon afterward, we could see a small debris swirl on the ground associated with the funnel. This was a landspout tornado and the first of four for the day.
For a brief time, about five minutes, two tornadoes were present. Eventually, the second landspout tornado became more dominant as the first tornado roped out. We followed the storm south and east and witnessed two more tornadoes about 10 miles to the south of Brewster. Aside from the tornadoes, we also saw golf ball-sized hail. And there was a spectacular mammatus field that was amplified by a setting sun.
A day with non-destructive and photogenic tornadoes in open fields was a great way to end our 2019 season!
---