We receive a lot of questions about our storm chasing tours.  We have taken the most commonly asked questions and answered them here for your convienence.  If you have a question that isn't answered on this page, please drop us an email using our contact us page and we'll get right back to you, if of course we're not out storm chasing.  If we are, we'll answer you as soon as we're back.
What kind of storm chasing vehicles do you use?
We conduct our tours in large passenger vans.  Our primary storm chasing van is equipped with captain-styled seats in the back for maximum passenger comfort.  It also has overhead LCD screens that we often use to allow passengers to see the data feed from our van's main computer in the front.  All of our storm chasing vans were originally designed to carry at least 12-passengers, but we never put more than six passengers in a van.  We commute long distances and want you to be as comfortable as possible.
What does the tour fee cover?
The tour fee covers our services, including transportation and lodging. It does not cover your flights, food and/or incidentals. You should plan to have about $30 USD per day to cover your meals and any incidentals. Transportation between the hotel and airport is normally provided by the hotel.
Is the name of the company "StormTours.com"?
Yes. We are not "Storm Tours", we are "StormTours.com". But, if you want to call us Storm Tours, that's fine with us. We always find it best to just keep things simple, besides, it helps people remember our website too.
What is your secret for so many successful tornado interceptions?
There really is no secret.  Our storm chasers are the most talented severe storm and tornado forecasters on the planet who live, eat, and breath storm chasing.  That being said, Red Bull probably has something to do with it too.
Does the storm chasing tour include hotels?
Yes. The tour includes all hotel accommodations while you're with us, and also includes the hotel accommodations on the arrival day of the tour. As far as hotels, we try to stay in nationally branded motels/hotels such as those in the Choice Hotels, Best Western and Wyndham hotel groups (examples: Clarion Inn, Comfort Inn, Quality Inn, Mainstay Suites, La Quinta Inns and Suites, Days Inn, Super 8, Best Western and occasionally, we might stay in a Hyatt).
From time to time, when we're able to stay in a major city such as Oklahoma City or Denver, we'll try to stay in more luxurious places. When we're storm chasing throughout most of Tornado Alley where it's quite rural, the hotel choices begin to dwindle. While we don't have an unlimited hotel budget while storm chasing, we will look for national hotel brands for our nights stay when given the chance.
Please note that you will not be spending a lot of time in hotels as storm chasing requires long driving days and we rarely stay in the same hotel more than a single night during any tour. A clean, comfortable room and a shower is what we aim to provide.
What does a typical day of storm chasing involve?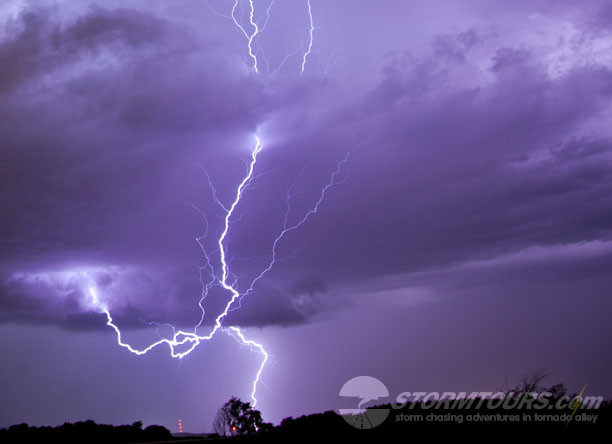 First of all, there is no such thing as "typical" when we're talking about storm chasing. Each day brings its own unique challenges and this is further the reason why you want a well experienced team leading your tour.
That being said, we'll usually start off with a morning forecast to identify a broad area where storms are most likely to develop. Following that, we'll load up our group and drive most of the day while we make our way across Tornado Alley to our targeted location.
The atmosphere is fluid and is in a constant state of motion. Because of this, our targeted area will become more defined throughout the day and we'll use a combination of storm chasing technology, experience and "gut feeling" to narrow down this area, possibly having to shift our target location – in other words, storm chasing requires a fair amount of driving.
When we do get a developed storm, we'll plan the final stages of the interception and figure out the safest way to "attack" it for the best viewing angle of any possible developing tornado. During this stage of the chase, we will still spend a lot of time driving, but the distances traveled between stops will become considerably shorter (sometimes only a few miles at a time). During each stop, our team will evaluate the safety factors and, if it's deemed safe, we'll all be able to stand alongside one of nature's most intense severe storms and capture all the action with our cameras.
However, since you've asked, we'll wake up in whatever town or city the previous day left us in (of course) and the tour's director will look at a lot of data.  You may not see this part of his day, as it is often done in his hotel room while consuming insane amounts of coffee.  At some point in the morning, he'll begin to shape up a decent target area where the biggest likelihood for severe weather will happen and then he'll gather the tour guests, explain a bit about the day's outlook and layout a plan of attack.  Be prepared for this plan to change, and change often. Since the atmosphere is fluid and in a constant state-of-motion, so must be the chasing strategy!
The two biggest parts of any storm chase day will be: Driving and Waiting.  When we're driving, we typically have a good idea of the general area where we will need to be, and a time when we need to be there.  If we're waiting, we're already where we want to be and we'll be waiting on a time for when things begin to happen that will shape up our chase day.  It's not always exciting as storms often happen in places that don't include the many conveniences that we normally enjoy in life.
We may, for example, have to spend the better part of our day waiting at a truck stop in the target area.  The idea behind this is to provide at least some level of comfort where there are restrooms available, as well as food and drink choices.  Once the clouds start to boil and the chase is a "go," be prepared for driving and possibility lots of it!
This means you'll want to try to limit your fluid intake during the day as much as possible while staying hydrated.  As for our fearless leader (Brian), he doesn't understand this rule well and often forget to drink during the day and ends up with a terrible headache in the late evening.  Don't be like Brian, do hydrate yourself.  Just don't go crazy with it, because there are not many places to stop once we're on the road!
Does Global Warming mean I will see more tornadoes?
The short answer is, "maybe." A study published in the Journal Science, Dec 2016, shows that there are not more tornadoes per year as a result of climate change, but there are more tornadoes occurring during each outbreak. Thus, tornado outbreaks are becoming more common and have more tornadoes associated with them. We have certainly witnessed this on our tours in the previous storm seasons as well. In June 2015, we intercepted nearly 25 tornadoes within just a few hours near Simla, Colorado. On May 24th 2016, again, we witnessed nearly two-dozen tornadoes within just a few hours. 10 years ago, we didn't see these big outbreaks occurring nearly as much. We would instead go through periods where there was "a tornado" for a few days, then we'd have a few days of "severe clear". Now, we're seeing massive tornado outbreaks and then a few extra days of "severe clear", so the number of tornadoes hasn't increased (or decreased), they're all just happening on fewer days. Of course, there situations that happen like on Tour 4 in 2016 where we intercepted tornadoes on every single day of the tour across four states! For more information about this new peer-reviewed study, you can read it here: http://science.sciencemag.org/content/early/2016/11/30/science.aah7393.full
I'm trying to arrange my flight, can you make any recommendations?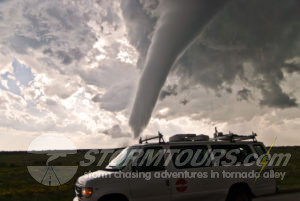 The only recommendation that we can make is to try and arrive at the base city no later than 5:00 p.m. local time (Central Time Zone). We normally conduct a "pre-tour orientation meeting" around 7:00 p.m. that evening and, while it's not required that you attend, we highly recommend that you are there to get the most information about what you can expect during your tour.
We also strongly recommend that you arrange for your departure flight to take place in the afternoon. Check out time at the hotel is normally set for 11:00 a.m. If we have a strong last day of storm chasing, it could be very late, or in some rarer cases "early morning" before arriving back at the hotel. Thus, you'll probably want some time to rest up before flying.
I live close to the base city, can I drive to the tour and will there be a place that I can safely leave my vehicle for a week?
The hotels that we stay at will permit you to leave your vehicle in the hotel parking lot. Since our hotels are located close to an airport, you can also choose to park your vehicle in the extended airport parking and use a shuttle from the parking lot to the airport. We recommend searching Google for your best option. Please note that leaving your vehicle unattended is solely at your discretion and neither StormTours.com, or our hotel partners will be responsible for any theft or damage to your vehicle if you choose to leave it at the hotel.
I want to go on a storm chasing tour, but I'm planning on waiting until the week can be somewhat better forecasted. Is this possible?
That is a risky decision that you'll have to make. If you decide to wait until the previous week before a storm chasing tour, then we can say you'll have almost no chance at all of being on a storm chasing tour because we'll already be completely booked. Our storm chasing tours are usually full well in advance of the start of the season. When we do have an occasional opening due to a possible cancellation, then we have a waiting list and treat it as a first come, first serve. There are people on this list who have been waiting for several years without the possibility of a last minute deal. So, we don't recommend this as an option to you.  Please read: Which Tour to Choose.
What month is better for storm chasing, May or June?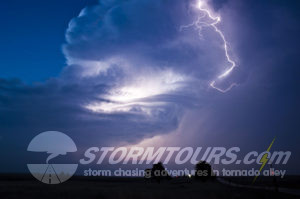 Tornado potential in the United States usually starts in the early spring such as mid-March and peaks at the end of May. June is more active in the northern latitudes in states such as Nebraska and the Dakotas, as well as into the Canadian Prairies.
Each week during our tour schedule has been designed to coincide with the highest possibilities of tornado potential, and so are the base cities that we use. Each storm chasing tour has the same potential for tornadic supercells however the main difference is the general location of the storms from tour to tour.
During May most storms will occur in the Texas Panhandle and into Oklahoma and southern Kansas and these storms are typically fast moving due to the larger trough system that we see during this time of year.
June on the other hand will generally produce slower moving storms in areas such as northern Kansas, Nebraska, Colorado and points north. Our favorite is the June storms of the northern high prairies due to a few reasons: their slower moving nature makes them easier to view, less population in these northern prairies make them more enjoyable to watch and there is a lot more to view due to the elevation of the northern latitudes. Please read: Which Tour to Choose.
What should I bring for storm chasing?
We recommend that you pack for a week and bring one soft-style luggage and a smaller "carry on" sized bag for things such as cell phones, cameras and batteries. Tripods are welcome but be aware that we do have "non-tripod allowed times" during the chase due to the time that it can take to setup and tear them down – which could put our group at a safety risk. Our entire group must be able to quickly load back into our vehicles in a split second and lingering times can either put us at risk, or just cause our entire group to miss a tornado by mere seconds.
Thus, we only allow the usage of tripods when we either expect to be stopped at a single location for more than 5 minutes, or while still photographing lightning. And you must be able to get all your gear back into the vehicles quickly. It's usually best to bring a monopod instead of a tripod as this will allow you to get a "quick stick" in the ground for additional stability while shooting, yet remain extremely mobile and able to load up quickly.
Tour Director Brian Barnes has compiled a list of things to bring that will help you in planning your trip – Top 10 Must Bring Items
Do the storm chasing van's have Wi-Fi?
Yes.  However, it is restricted for staff members only.  We don't like having to restrict wi-fi in the vans, however, it is an evil necessity since the mobile phone companies have decided to do away with their unlimited bandwidth plans.  We're only allowed a certain amount of bandwidth during a billing cycle and we need every bit of it (and plus some) in order to conduct our tours.  The radar files that we download every 5-minutes are quite large, as are the other remote sensing data files such as satellite imagery, surface observation maps, forecasting data and so on.  If you need cellular services while in the vans, please make arrangements with your phone company or purchase a temporary "pay as you go" device prior to joining the tour.  If the phone company(s) ever allow us to have an "unlimited" bandwidth plan again in the future, we'll be more than happy to share.  Until then, our primary focus is to use the data we're allowed to conduct our tours as best as possible.
Can I sell the photographs and video that I take during the storm chasing tour?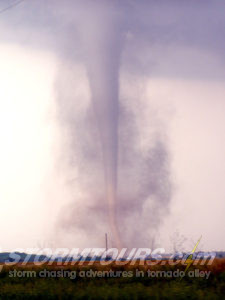 No, is the general answer to this question.  In some cases, we may allow a commercial photographer on the tour to sell the images they capture during a tour with us, but it does require written permission from StormTours.com and it's respective owner(s).  You are more than welcome to take all the photos and videos you would like during the tour (in fact, we'll help you with your cameras if needed!) however, we do not permit commercial sales of any kind.  You may share your photos and videos online with your friends, provided they are watermarked and we do require all customers to wait 48-hours after the photo and/or video was captured before they can be uploaded. Additionally, we do require a credit tag on any and all postings pointing to our website "StormTours.com".
The reasons we ask that all this be done, is because of the "news value" of these images. Even if photographs are not professionally captured, a high-end news and media company can (and will) steal them from your twitter and other social media profiles and use them to promote their stories.  When this happens, it robs storm chasers (both this company's owners and other storm chasers) of the opportunity to earn income after risking their property, vehicles and other assets.  While this income is generally low, it is something.  If the media outlets have the photos already, even from someone's smartphone after ripping it off your Twitter account, they won't buy anything from anyone else.  Thus, we have a 48-hour hold on any and all images for social media and sharing.
I require prescription medications, can I still come?
Absolutely! We do not, however, allow any kind of illegal drugs on our tours. If you're caught with such drugs, we will put you off the tour immediately – so don't bring them!
If you require prescription drugs, please be sure to bring your prescriptions with you. Some of the areas that we chase in make us easily subjected to vehicle checks by law enforcement, such as areas along the international border with Mexico. If law enforcement finds prescription medications, they will want to see your written prescription – so be sure you have it.
What is your alcohol policy?
We do not allow any alcoholic beverages to be open in the vehicles. This is state and federal law.
What you do in your hotel room is your business and we want you to enjoy your vacation, so if you purchase alcohol during one of our stops, make sure its not opened until you get to your hotel room. We do not allow drunkenness in our tour vans and if you're deemed to be intoxicated during our driving times (i.e.: in the morning), you will not be allowed to continue your tour.  We aim to conduct high quality storm chasing tours in the utmost professionalism and will not allow drunkenness to interfere with any of our tour guest's experiences. Please be respectful to your fellow tour guest at all times.
Aside from it being illegal to transport open alcoholic containers in vehicles, there is also a large concern of weather safety involved as well.  Tornadoes do kill people – this is serious stuff!  We are not operating a theme park with a safety rating, we're dealing with nature's most violent and extreme weather and there are times that the weather can surprise us.  We need every tour guest to be as alert as possible, with the ability to think clearly and to listen and take orders from our tour leaders should any life threatening situation develop.
Persons found opening alcoholic containers, such as beer bottles, inside the vehicles will be asked to leave the tour! You can buy them and store them in our cooler as long as they are not open, and then enjoy them once we arrive back to a hotel that evening.  Brian recommends trying a Colorado brew called Fat Tire from New Belgium Brewery.
I'm a smoker, is that a problem?
Sorry, we do not allow smoking in our vehicles. However, if you can handle going several hours without a cigarette, you should be fine. We also can not guarantee that we'll be able to secure a smoking room at the hotels that we stay at. Many places of business, including hotels are becoming "smoke free establishments" and will not allow smoking. If this is the case and a customer violates the smoking policy of the hotel, the hotel will charge a cleaning fee, usually in excess of $300.00. Several of our regular tour guest are smokers and they do fine on our tours – just take your smoke breaks when we stop and be courteous to your fellow non-smoking customers at all times.
Will seeing a tornado give me superpowers?
No. But, congrats if you've made it this far in the FAQs!  Have a banana.
I really like storms, can I have job?
Unlikely, but it's not out of the realm of a possibility.  Aside from the storm chasers on our team page, we have several additional drivers who have been with us for the better part of a decade, and a couple of them even longer, so our turn-over rate is almost non-existent.  Our drivers basically use their vacation time from their regular careers to spend a week or two with us while focusing on driving.  We're very picky about who we allow to be in-control of our vehicles.  If you think you can make the cut, forward us your resumè and experience (prior storm chasing experience is a must).
We typically look for people with diverse backgrounds who can contribute a wide variety of their skills to make our storm chasing tours the best in Tornado Alley.  Such skills include disciplines as electrical engineering, computer science, legal professionals, medical professionals and even graphic design artists (we're already overflowing with meteorologist).  All applicants must be a U.S. citizen or have authorization to work in the USA and have a valid driver's license issued within the USA.  They must also be willing to participate in a licensed Dept. of Transportation random drug and alcolhol testing program.
Do I have to participate in any television or documentary productions that are on-going during my tour?
Documenting the storms we experience on tape, film or digital media is a major part of our business model. All tour participants must sign a personal release form that states that we can include your appearance, voice and likeness in any production that we are affiliated with during your tour.
However, if you really don't want to be on-camera then speak with your tour leader so they can make note of it.  The tour leader will inform the production crews that are with us and they will do their best to keep you out of their shots.
Our camera crews are non-intrusive to our tour guest, since the nature of their work is to tell the story and not to be the story
Are your tours safe?
Safety is our top priority for us at all times and we'll discuss the general safety rules in-depth during our orientation meeting before your tour starts.  We have a perfect safety record and we aim to keep it that way.
What is the plan for Severe Clear (e.g., "days with no storm chasing")?
First of all, every storm chasing tour we have conducted in our history has intercepted severe weather with a 100% success rate!  In other words, every storm chasing tour we have conducted has intercepted at least one storm that was severe warned by the National Weather Service.  Most tours will see several, and about 95% of our tours will successfully intercept tornadoes, provided there is one.
There will be "severe clear" days and every tour though, so what happens on those days is sort of a mystery plan and basically will depend on our location and how much time we have until the next expected round of severe weather. It may include a trip to a national forest or grassland or monument. We might explore a cave system in New Mexico, or canyons in the Texas Panhandle, or visit a site such as the Mount Rushmore in South Dakota. We might relax and enjoy one of Oklahoma's hundreds of lake systems, or pay a visit to a busy city center such as Dallas or Denver.
We might also use the downtime from storm chasing to help deliver supplies to an area that recently experienced a devastating tornado impact. We just never know what plan Clear Skies will bring but, with so much to do, we never get bored.  We do recommend you familiarlize yourself with GeoCaching if you're not already!  Trust us, you'll love it!
For disclaimer purposes we'll also state that there will be times when our group will opt for a "lazy day" during clear weather times. This could be due to the majority of the tour group needing some time to rest so they enjoy the rest of their tour, or it may be due to the tour leader's decision based on a future forecast of severe weather for storm chasing within our location the following day. It is also highly possible that we'll need to use clear weather days to travel to another part of Tornado Alley to set up in advance of a weather system expected during the following day. Don't worry, our vehicles have in-motion satellite television and a DVD player to feed any television addictions that may develop on long drives!
You claim a 100% success rate of severe weather, can I have a guarantee?
Absolutely! And this is it: If our team cancels your tour for any reason, you have your choice of your money back (including your deposit) or a reschedule of your storm chasing tour for either another storm chasing tour within the same year (provided there is one) or the following year.  If your tour does not intercept at least one severe warned thunderstorm, due to a human error on our part, we'll provide you with $300 in return plus a free tour of the same length the following year in exchange for our miserable failure.  We're the only storm chasing company in Tornado Alley to offer that, if anyone else did, they'd go bankrupt.
Can I tag along behind the tour with my own vehicle?
We do not allow "tag along" vehicles as a part of our tour group. This is mainly due in part that we can not assert control over your safety when you're not in our vehicles and in part due to the fact that our experienced drivers will be able to navigate within a storm environment much easier than most "normal" drivers and thus, we would likely become separated at some point and this would ruin your storm chasing experience. In the rare event that we do agree to allow you to tag-along behind our vehicles, you'll be required to sign a vehicle waiver and take responsibility for your own safety and your own windshield (along with everything else attached to that windshield)!
How should I pack for my storm chasing tour?
We recommend you pack for 6-days, no matter if you're on a 6-day or a 10-day tour. If you have scheduled back to back storm chasing tours, many of the hotels that we stay at will include coin operated laundry machines where you'll be able to wash your clothes.
Several sporting goods stores sell rain and wind proof pants that include legs that easily zip on and off. These are highly recommended as the climate that we are operating in can change quickly due to the weather systems that we encounter – cold fronts, warm fronts and drylines all bring quickly changing weather conditions. Wind suits are also a good choice and easy to pack.
We do ask that you do not wear any clothing that includes a choice of words that would not be appropriate for television viewing audiences. While our production teams can blur out a t-shirt if needed, it's not visually appealing. We do however respect your right to free speech that we enjoy in the United States. We just ask that you respect your fellow tour guest since they have to look at you and your clothes everyday.
What is the size of the tour group?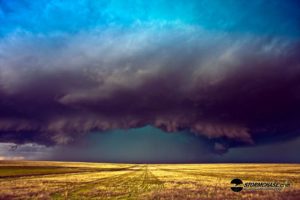 Each vehicle only carries six passengers and two tour guides, for a total capacity of eight per vehicle. Our main storm chasing vehicles include luxury captain seating, but we do occasionally have to operate a backup vehicle in case of a critical system failure with one of our main units. These backup units are stock as they come from the factory without the additional after market seating and custom lighting that our main units employ.
In the unlikely event that we have to employ a backup unit for any reason, we will require that tour guest alternate between storm chasing vehicles from day to day; this is to allow everyone the equal chances of riding in the remaining main unit during the scope of their storm chasing tour.
We never operate more than three vehicle units per tour and most storm chasing  tours will only include two or less. We may also have a television crew of three people or less that will be following our tour vehicles. So our group sizes can range from eight people to as many as twenty-five people. We try to keep our group sizes to a minimum for several reasons, including a more personalized experience and to allow us to be compatible with more hotels.
I've noticed some of your images are watermarked with StormChase.com, why?
We own both brands, StormTours.com and StormChase.com.  For storm chasing tour related business, StormTours.com is where we maintain our official tour schedule and information.  StormChase.com is Brian's "personal" storm chasing website. On it, he also keeps a tour schedule (but it may not be always up-to-date, so maintain watch on this site instead), photos that he has taken during our storm chasing tours as well as his personal storm chasing accounts when he is not conducting a scheduled storm chasing tour, his general ramblings (seriously, this guy rambles… a lot!) plus more.
I have a question that your FAQ didn't answer?
We've got an answer, just email us off the contact page and we'll respond in as timely of a manner as possible. We look forward to hearing from you.
This is great and I've always wanted to do this. Where do I sign-up?
Reservations are extremely simple! Just visit our storm chasing tour schedule page, find the tour you want and then click the reservation button to the right of the selected week. You'll need to provide us with your basic contact information and secure your storm chasing tour deposit online and then your seat will be reserved.