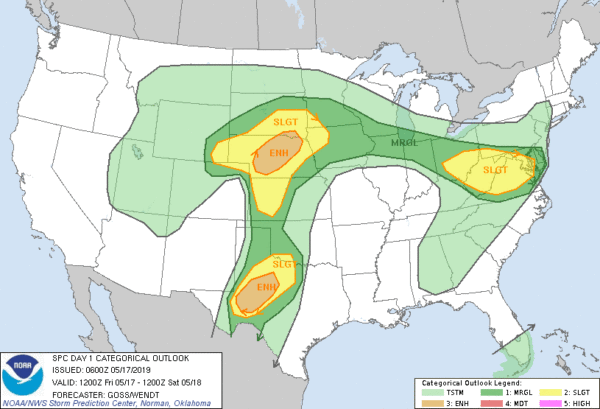 There are lots of reasons to decide on a professionally guided storm tour as opposed to trying the DIY method. The most obvious is having someone with the ability to forecast severe storms. Yes, it's possible to just drive to a bullseye enhanced or moderate risk area. But, even if an inexperienced person did that, they'd still need experience to successfully intercept a severe storm without injury. Today was a good example of at least the first reason.
We started this tour from Oklahoma City. SPC's forecast offered two enhanced risk areas. The first covered much of the South Plains in Texas. The second covered most of central Nebraska. I had my doubts that due to our starting point that we could make it to either in time. After performing my own extremely thorough mesoanalysis, I found us a target area. It was, however, outside of a slight risk area.
Here is the risk from a tour operator's perspective: customers look at SPC data every morning. When a tour operator makes a decision to chase outside of a risk area, they better know what they're doing. If the chase busts and there are no storms, people get angry. If there is a storm or a tornado, they can't believe you pulled it off.
Personally, I'd prefer to chase more secondary targets these days anyway. Especially in the middle of May when there is a giant bullseye over an area. The vast number of people attempting to chase storms quite honestly creates additional risks. So, if it's possible to get severe storms in an area with fewer chasers – I'm in! May 17th was a perfect example.
As stated, we started the day in Oklahoma City because it was the first day of the tour. After a careful mesoanalysis, I advised the group of our options. Texas, where we probably wouldn't be on time. Nebraska which was straight-up impossible to make it on time. Or, a marginal area in the Oklahoma Panhandle that had rather impressive dynamics.
There was a dryline in play with strong heating along the boundary to get our storms going. However, the deep, tropical moisture we needed for tornadoes would setup several miles east. That's probably why SPC didn't extend the slight risk area further south. That said, it appeared a dry punch would move the dryline further east than what SPC expected. If that happened, we'd be in business.
We made it to the Oklahoma Panhandle with time to spare. There were two cells developing when arrived in Beaver County. We were able to take a break from the road and stretch our legs while watching the storms brew. The nicest thing about all of this was that our group was pretty much alone. We had these storms all to ourselves while hundreds of other chasers were all in Nebraska. I sure wasn't complaining!
As the lee trough at mid-levels began shifting to the east-northeast, our storms became to move with it. Back on the road, we were now chasing a severe warned supercell. The storm was moving primarily north, but it did have an easterly draw to it. If it could tap into the moisture just to our east, I felt like it could tornado.
We followed the storm for about 30-minutes before I noticed a developing wall cloud. That was it, it was taking in the higher surface dewpoints, finally! A few minutes later and we had a beautiful elephant trunk tornado! We did, however, see two other storm chasers in a single car. I was really hoping the tornado would be all ours, but we had to share. What's fair is fair.
All in all, it was an amazing day with a very pretty tornado. We followed the storm north across the state line into Kansas. Soon after entering Kansas the storm really picked up forward speed moving over open country. It became evident that we were not going to be able to keep up with it much longer.
I found a high spot to park on (there are a few) so we could watch for as long as possible. We ended up seeing a second tornado, very briefly, as the storm moved away from us towards Dodge City. Eventually, the RFD swung around and wrapped the southern view of the tornado in rain.
Another storm was developing in Texas along the state border of the Oklahoma Panhandle. We drove the 30-miles across Oklahoma, entered Texas and continued chasing a second supercell. The second storm had two tornado warnings on it but did not produce a tornado. Still yet, at this point, it was just a bonus storm anyway. It did, however, have some nice storm structure and made for some great photos.
We finished the day at a very authentic Mexican restaurant in the Texas Panhandle and then booked it to our hotel. We have prepared a video showing the radar presentation along with our GPS location marked on the map. Be sure to check that out. We hope to see you on a storm chasing tour, we'd love to share the next tornado with you! Vaya con dios!
---
---