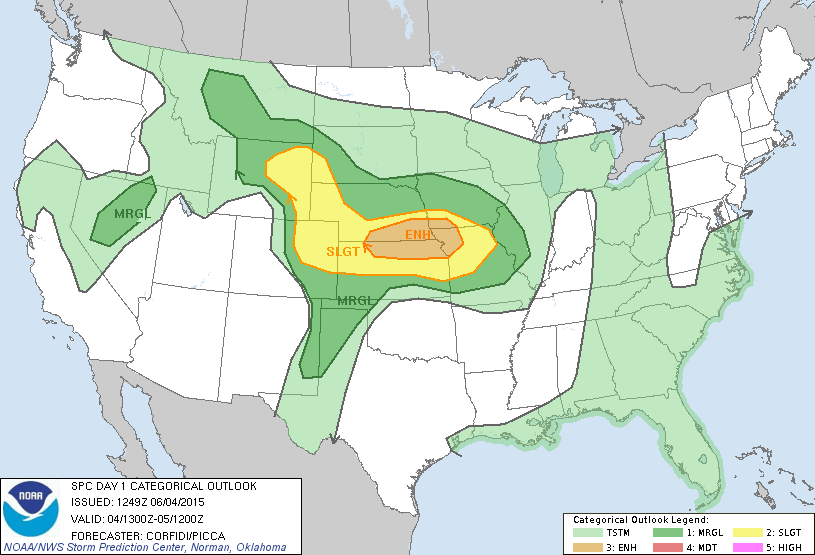 After looking at forecast data this morning, we assumed we'd likely see a tornado before the day's end. But, what happened near the sleepy farming community of Simla, Colorado was a surprise to us all.
We started out in Cheyenne, Wyoming. By day's end, we would witness nearly two-dozen tornadoes.
The forecasting data indicated two possible chase targets. Target number one was in northwestern Kansas and the second was in central Colorado. The dynamics for Kansas looked great and was tempting. But, it's hard to ignore the Palmer Divide in central Colorado with nearly 3000 CAPE, so, Colorado it was!
We drove south across the Wyoming border as a supercell formed behind us. It was over Cheyenne and quickly tornado-warned by the National Weather Service. Looking at the storm in the rear-view mirror, I began to wonder if I was making a mistake.
A storm chaser on the Cheyenne storm sent a text message to me that said the storm was disorganized. We had towering cumulus in front of us and I decided to press on and get south of Limon…
Our storm chasing tours arrived at the storm with time to spare until tornado armageddon would begin. I double-checked the maps for any and all farm roads that we might be using throughout the afternoon. It didn't take long before the storm decided to get serious. It ramped up very quickly while pelting us with golfball size hail.
After 20-minutes of watching the wall cloud organize, a funnel poked out of the clouds swirling around above our heads. We watched the ground carefully and within a minute's time, a swirl of dirt appeared – tornado!
At 5 pm MDT, the first tornado made contact with the ground seven times. I called them out: "Tornado Number 1, Tornado Number 2, Tornado Number 3…" It was shaping up to be a very successful intercept and forecast validation.
The supercell went through a few stages of reorganization as we tracked the storm over the next few hours. We seemed stopped counting tornadoes after 19. Our memory cards on our cameras were beginning to fill up to the max.
All in all, we witnessed about two-dozen tornado events. We lost one window from the storm chasing van due to baseball-sized hail. We ended the day with hundreds of tornado photos, a few hours of video and some much needed fast food.
This was the last day of chasing for this storm chasing tour and needless to say, everyone was happy. The best part of the whole day was that there were no reported major injuries.