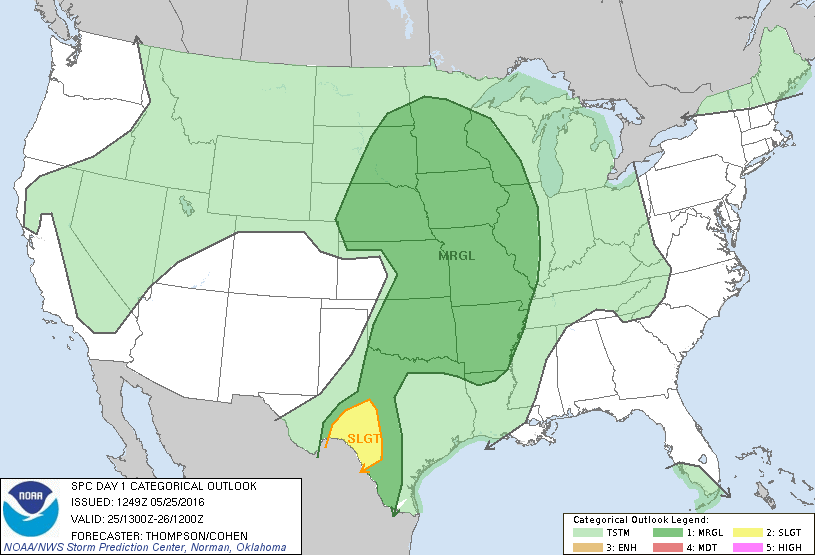 We started our day from Garden City, Kansas. I met the storm chasing group in the hotel lobby, not many of them were bright and cheery.
It's common for our customers to look over the Convective Outlook issued by the Storm Prediction Center. This morning's outlook didn't show much promise for the day and that had the group down a bit. SPC issued a marginal risk for much of Tornado Alley. As such, the group was expecting me to call a "severe clear" day and look for alternative activities. But, I had different plans.
I typically don't look at SPC's Convective Outlooks. I do like to include them in our chase logs here on the website because it adds depth to the account. But, I prefer to forecast the day's probabilities myself using numerical forecast models and I thought the day actually did hold some promise. My initial target area for the day was Salina, Kansas.
I spent an hour going over my forecasting thoughts with the tour group to get us all on the same page. There was a steady flow of deep moisture from the south. Dewpoints into the high 60s were reaching as far as the Nebraska border. Aside from moisture, there was a dry air punch near the Interstate-35 corridor in central Kansas. Forecast MUCAPE, however, was rather low at about 1500 j/kg forecast.
Once we arrived in Salina a few small storms begin to fire up. As a result, we relocated to a familiar parking area near Bennington, Kansas about 25-miles north.
This was the same parking lot where we witnessed a monster wedge tornado from just a few years prior. Today, we sat in that same parking space and watched yet another tornado birth, amazing!
There were a total of four tornadoes from this isolated supercell. The largest was a long-track violent EF4 tornado that was on the ground for over an hour and was a half-mile wide at times.
This tornado developed just north of Niles Kansas around 7:07 pm. It moved ESE damaging and destroying everything in its path as it passed about two miles north of Abilene.
It then weakened for a time as it moved to the northeast of Abilene. However, it re-intensified and took a southeast turn as it approached Interstate 70. Then, it went on to produce the most severe damage after crossing the interstate just a mile or two southwest of Chapman.
The photo provided here with the truck in it was taken from an interstate overpass. This was when the tornado was at its widest, a full-blown wedge. The tornado then moved east passing one mile south of Chapman and finally dissipated at 8:37 pm just west of the Dickinson and Geary County line.
We zig-zagged along the back roads and stayed well east of it. We had almost perfect views of the storm for nearly an hour before it finally roped out.
A remarkable day that started with little hope. The lesson learned today was that a Convective Outlook risk area doesn't always come to fruition. In fact, there have been many high risk days that have fallen flat and many marginal risk days that end with outbreaks.
That said, the team at SPC is no doubt the best tornado forecasters in the world. With the low CAPE forecast, this day was indeed a marginal risk. But even a marginal risk day can end with a tornado outbreak.