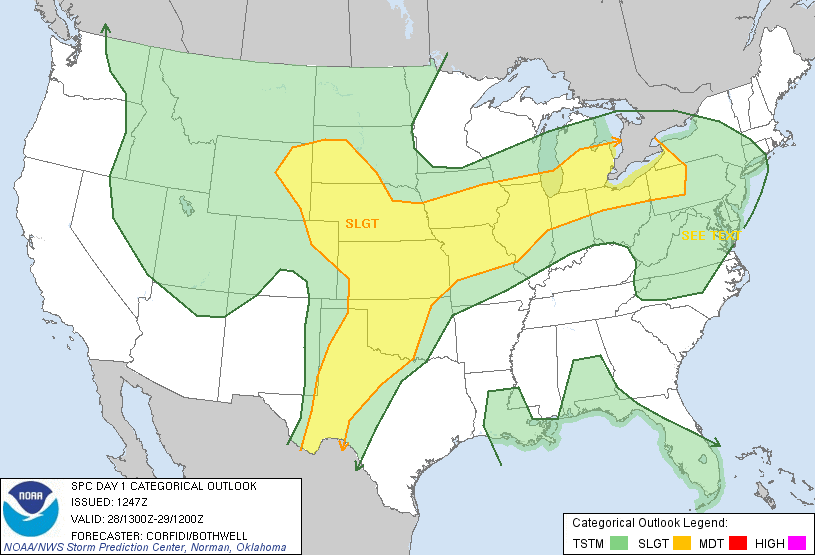 Storm chasing often involve a lot of driving. We have averaged about 400 miles per day on this tour so far.
After checking some forecasting data from our Hays, KS hotel, I knew this wasn't going to be one of those often days.
A Slight Risk area that covered most of Tornado Alley was issued by the Storm Prediction Center. Between the large risk area and the short distance to our target area, I received some confused looks after telling our storm chasers we'd only be driving about 100 miles today.
We were basically already in our target area for the day. By early afternoon, we had driven from Hays to Salina, a whopping 95 miles, which took a little under an hour and a half.
By mid-afternoon, the cumulus field that had developed in advance of the dryline was boiling over our heads. We watched the clouds form that cauliflower-like shape, almost as if a nuclear bomb had been detonated.
One of those updrafts would become the focal point for the storm that created the monster tornado of 2013. We had no idea as of yet what was to become.
The storm chasing tour literally watched the storm appear from a blue sky. We drove another 10 miles to the north and parked. This would become our viewing place for the rest of the day.
Within an hour, a tornado formed nearly right in front of us. It morphed into a giant wedge, perfectly backlit with strong contrast just west of our location.
The best part, it didn't move! This storm was anchored and dug its heels in deep, literally spinning over open farmland and giving us the show of the year for more than 40-minutes!
All that patience from a long day of waiting paid off!
An interesting note about this storm: The National Weather Service originally rated the tornado an EF-4, based on wind speed measurements by the Doppler On-Wheels (DOW) which was in the area. However, because tornadoes are offically rated by the damage they cause and since this tornado didn't have any structures nearby to cause such damage to, it was later downgraded to an EF-3. However, the National Weather Service still maintains that the storm produced EF-4 winds at the surface of 166 mph. Their survey notes are located at https://www.ncdc.noaa.gov/stormevents/eventdetails.jsp?id=443197.