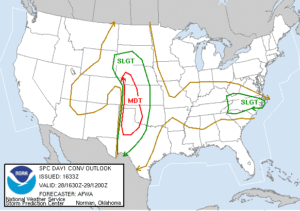 This was an incredible day that eventually involved so many tornadoes that I lost I count. I was unable to obtain quality photos/videos for every tornado that I saw because most occurred near sunset and I was chasing alone on this day and driving so for this chaselog I'm only posting the best catch of the day – a beautiful tornado that had perfect contrast and took on many forms.
I also witnessed a very large wedge tornado at the end of the day that was near the Bird City, KS area. This occurred after dark, so the only way to see this tornado was to view it when the lightning from the storm would back-light the tornado.
The day started out for me in Wichita, KS and it was apparent that I had two chase targets that were possible – either the Texas Panhandle or extreme NW
Kansas. My initial inclination was to chase in the Texas Panhandle, but I eventually set my focus on western Kansas. The reason for this decision was due to the fact that it became obvious to me, early in the day, that the Texas Panhandle storms would be well covered by multitudes, while there were less storm chasers in western Kansas and an extremely good potential for supercells that would produce tornadoes.
With that in mind, I headed to the Ulysses, KS to sit on the dryline and try to get on any storm that formed very early. I drove west along US 160 and my weather station showed a dramatic decrease in dewpoint temps just west of Ulysses, I turned around a drove back to the east and again I went from a 39 F dewpoint to a 55 dewpoint within a few seconds. Around 3 PM a cu field began to develop just to my west in extreme eastern Colorado and began to slowly move into western Kansas.
A few towers began developing and would get sheared over and die off, finally I caught sight of a large tower going up just slightly to my northeast and I quickly drove up Highway 83 to Scott City and left on 96 to Tribune and then north on 27 where I intercepted the storm near Sharon Springs.
I had to drive through Sharon Springs and I could just barely make out the outline of the tornado through the core once I was on the north side of town. I could have just shot photos from there, but I decided to punch into the core and get a better position on the tornado as carefully as possible. Once I did I came out in a perfect spot with the tornado just paralleling Highway 27 as it slowly moved north. As I approached the tornado from the south and broke through the rain curtain, I was only a few hundred yards from the base of the tornado. I pulled over, looked straight up at it and started taking photographs as it moved north and away from me.
I got back in the van and followed it for several miles, stopping several times and taking photographs. It was on the ground for at least 10 minutes before it roped out and the only other person I saw along 27 during the duration of this tornado was the county's sheriff who was sitting in his truck and trying to get cell phone video of the tornado.
Once the tornado roped out another chase vehicle pulled up behind me and I chatted for a few minutes with 2 other chasers. They saw the tornado as well, but from a distance and had to look at it through the core for a perfectly understandable reason – they didn't want to get any hail damage. Still yet, that was it as far as "chaser convergence."
The storm started to look a bit as if it were becoming outflow dominant and I thought about calling it a day for a few minutes, but it wound itself back up and started producing tornadoes again, but by this time it was near I-70 and there was less than a few minutes of daylight left in the day. I saw this storm produce at least another 10-15 tornadoes within just a few minutes. Once it crossed I-70 it was still producing tornadoes and there were a few more chasers along the interstate so some of these tornadoes are well documented since those chasers were in a better position and "camera ready" and I was not due to driving in from the west with now poor contrast on any developing tornadoes.
To end the day, I decided to do some quick lightning shots and I drove east to Brewster, KS to set up there so I could hopefully get some structure that would be illuminated by lightning – what I saw amazed me yet again. During the lightning flashes I could see a developing tornado on the base of the storm. The lightning died down for a few minutes, but the next flash of lightning made my jaw drop – there was already a large wedge tornado on the ground! I was lucky enough to get that flash of lightning within the exposure time of the photo I was taking. Those images are also shown below.
SUMMARY: A stalled upper-level low pressure system in late March brought height falls across eastern Colorado and western Kansas while increasing a backed wind field throughout much of the central plains with increasing dewpoints and steep mid/upper shear values. A tornado outbreak resulted across northwestern Kansas. I was able to get the first tornado of the day from the Sharon Springs, KS supercell and followed the storm north of I-70 through the late evening hours to witness at least another 10 to 12 tornadoes from this amazing storm, including a large wedge tornado that caused damage near the community of Bird City, KS.
The best part of day was that most other storm chasers were currently in the Texas Panhandle sharing several tornadoes amongst themselves, while StormTours.com has this tornado event in northwestern Kansas pretty much to ourselves (or since this pre-season and I had no customers with me, I should say, "myself"), and this is the only place where you'll find images of the long-lived tornado that occured just north of Sharon Springs, KS.