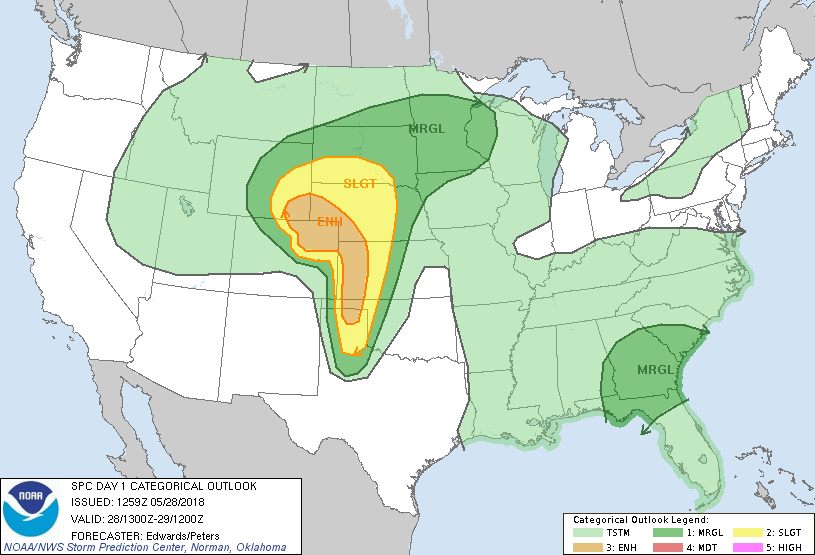 We started this day on Tour 3 in Colby, Kansas up near the Colorado/Nebraska border and headed south with an expected forecast of tornadic storms near the Dodge City, Kansas area.
Our timing was pretty spot on, we stopped in a small town just north of Dodge City to fuel the vehicles up and supercells were already building in the area, there were two of them.
Just as we got back on the highway, the one closest to us began a phase of rapid intensification and produced our first tornado of the day.
Just on the northern limits of Dodge City, we pulled over as Brian thought he saw a contrasting edge hidden in a wet core under the base of the northernmost supercell. Sure enough, with a bit of straining – the elusive Southwest Kansas tornado began to show itself!
It wasn't the easiest tornado to see and the cameras had a difficult time with it, but it is visible in the photo posted here (the contrast had to be blown out of the photo to bring the tornado out in the photo – this tornado was wrapped in heavy rain, not always visible, but in this case it was).
After the stovepipe tornado roped out, we quickly made our way through Dodge City as the storm was approaching from the west. We had to go all the way through the city to catch our next highway which would take us east and allow us to stay ahead of the storm.
After we were 10 or so miles ahead of the storm, near a small unincorporated town named Kingsdown, we stopped and set up the cameras. We now had the more southern supercell heading straight towards us and it was looking better than ever!
We decided to let the storm pass just to our north and as it did, it produced an incredibly low hanging wall cloud that was quickly rotating. The entire base of the storm seemed to be dragging the ground, literally about a one-mile-wide area of rotation right in front of us.
It's difficult in these situations to see any specific spin-ups on the ground, but the entire rotating base had basically become a giant multi-vortex wedge tornado! The tornado report from 2235 confirmed the tornado: https://www.spc.noaa.gov/climo/reports/180529_rpts.html