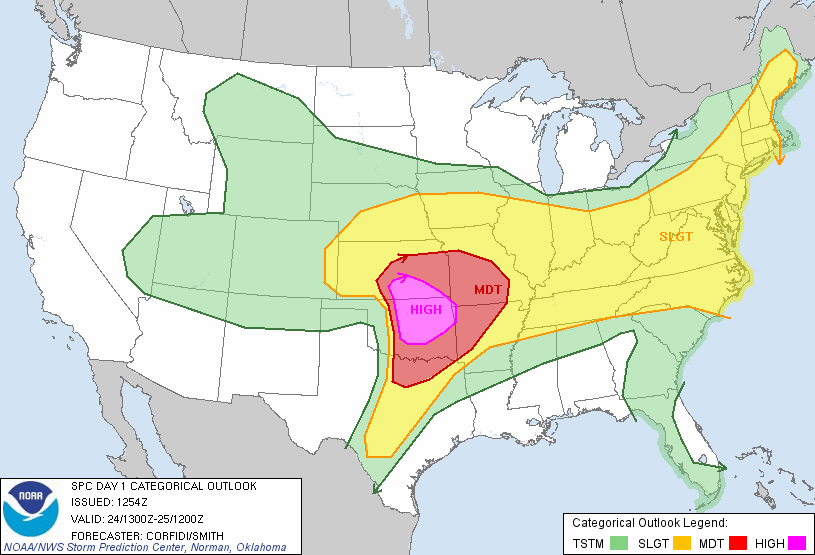 It's never a good day when tornadoes happen so close to the Oklahoma City metro area and today was one of those days. And May 24th brought a High Risk across the region as issued by the Storm Prediction Center.
A dryline punching into central Oklahoma along with rich boundary layer moisture across the region was sure to bring supercells to central Oklahoma, and that it did.
As expected, storms exploded across western to central Oklahoma and tornado reports were coming on many of these storms. We had set up initially just west of El Reno. We watched as a small cumulus cloud rapidly developed into one of the monstrous supercells that Oklahoma is known for.
It didn't take long and we had our first tornado of the day. Due to the high precipitation mode of today's storms, the tornadoes we saw were not easily photographed.
We followed the storm, taking a path to avoid heavy traffic in the Oklahoma City metro area to Piedmont, Oklahoma and then to the east to Stillwater.
Once the line of storms crossed Interstate-35, they began to move into Osage County, which is one of the most difficult areas of Oklahoma to chase storms in due to hilly terrain and trees. Because of the area the storms were moving into as daylight was becoming short, we let them go.
We prefer to chase storms over open country and never like chasing close to Oklahoma City. Unfortunately, there was extensive damage along Interstate-40 near El Reno and to many other areas of Oklahoma today.