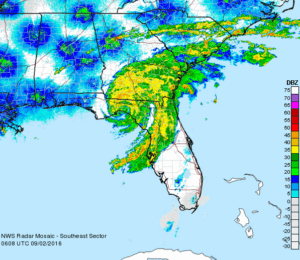 Hurricane Hermine was the first hurricane to make landfall in Florida since Hurricane Wilma in 2005, and the first to develop in the Gulf of Mexico since Hurricane Ingrid in 2013.
The ninth tropical depression, eighth named storm, and fourth hurricane of the 2016 Atlantic hurricane season, Hermine developed from a long-tracked tropical wave that had produced torrential rainfall in parts of the Caribbean.
After being designated on August 29, Hermine shifted northeastwards due to a trough over Georgia and steadily intensified into a Category 1 hurricane just before making landfall in the Florida Panhandle during September 2.
We initially set up in Crystal River, along with dozens of satellite newsgathering trucks from various networks. However, it was expected that Hermine's eye was going to make landfall in the corner of Florida's Panhandle.
Our goal was to intercept and document Hermine's western half, where the winds and storm surge were forecast to be the greatest.
As the hurricane neared landfall, we moved north along Highway 19 to the north of Chiefland, FL. The attached video shows the intense rain and zero visibility conditions along Highway 19 running along the Gulf Coast.
We would like to also note that we do not offer tours for hurricanes. To do so is far more complicated and would require any tour customer to be with us up to a week prior to landfall.
When we intercept hurricanes, we often leave several days before expected landfall to make sure that we don't have to fight or impede evacuations and traffic.
Hurricane chasing also requires us to stay extremely mobile, there are no hotels (hurricane chasers often have to sleep in their vehicles with all their equipment, supplies, and extra fuel as local stores quickly sell out of everything including gasoline).
We're very sorry, but we just cannot offer hurricane interception tours — but we hope that you're with us to see the next tornado in Tornado Alley!