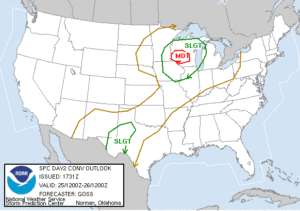 Despite a moderate risk issued by SPC for parts of Wisconsin on Sunday March 25, I decided to not take the chance of chasing in that area due mostly to the terrain (big hills and valleys, and no roads) of southwestern Wisconsin. However, the second option wasn't much better – the Hill Country of southern Texas and a lesser chance of tornadoes for the following day. The gamble paid off though because the moderate risk was a complete bust, and the less marginal risk area in Texas produced at least 5 tornadoes that we saw – 4 tornadoes and 1 landspout to be exact.
We made it to Kerrville, TX on Sunday before getting into a hotel for just only 4 and a half hours of rest and waking up to a cloud filled sky with torrential downpours in the Hill Country. Not exactly the place you want to be when a Flash Flood Warning is issued!
After looking over the morning forecast data, I had some mixed emotions. The tornado forecast had a lot of potential, but it was obvious that a nasty MCS would develop quickly and there wouldn't be a lot of time for any cell to get its act together and produce a tornado before it became mulched by the squall line.
Satellite VIS imagery showed a dry notch just south of Kerrville with an upper 50 knot jet coming off the Mexican Escarpment and -14 C temps at mid-levels. This combined with extremely rich tropical moisture that happens in extreme southern Texas and decent backing just ahead of a mesolow seemed to be the place to be at – with that in mind we drove through a developing river in the middle of Kerrville and headed down Highway 173 to Hondo, TX. As we broke through the cloud deck my weather computer started showing a rapid increase in temp/dewpoint and went from 64/59 to 72/70 within 5 minutes! I started to get very excited!
I filled up the tank when arriving in Hondo and noticed a tower developing overhead. After getting fuel, I pulled into an empty parking lot just off the highway and started looking at more forecasting data. The storm overhead looked terrible on radar, so I decided to continue going south to investigate a storm that was developing near Pearsall, TX. Just as I turned the van to exit the parking lot, something caught my eye to the left (east) – TORNADO!
I couldn't believe it! This tiny looking cell with horrible structure had already produced a tornado and it most likely developed right behind me and I didn't even see it.. I got so excited jumping out of the van to grab my camera that I actually tripped over my own feet and ate some pavement – back on my feet to run around to the other side of the van and get my cameras out..meanwhile Renee was trying to load a tape in the video camera with less than steady hands.
I started snapping away and out of the excitement I also forgot to check the settings on my camera and the images turned out overexposed, so I have done my best to correct them below.
I jumped back into the van to pursue the storm getting on Highway 90, crossing Highway 173 and driving east. Once I got past the overpass the tornado had already begun to rope out and the funnel crossed over the highway just about a mile in front of us. I wasn't going to doubt this little storm again – so I decided to turn around get back on 173 and head north to find a better east option and try my best to stay with this storm.even though it was moving pretty fast.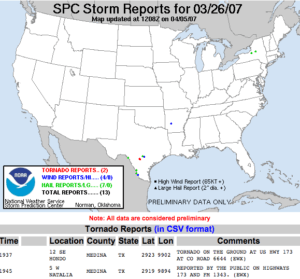 I took Highway 2767 to the northeast and drove about 10 miles – realizing the storm was getting further and further away and this highway would soon make a turn back to the southeast. No other road options, except muddy country roads, I pulled over and just started to snap photos. The cell produced a brief, weak landspout off the rear-flank that appeared to be in contact with the cloud base, but I don't believe it was and at the same time it had another tornado on the ground, which from my best estimate would have been just to the north of the "New Fountain" area (not much located there). I had to let this storm go because it was merging with a developing squall line and there was still that cell to our south that I wanted to chase.
Drove south on 173 and intercepted the second cell just to the north of Devine, TX. This cell looked much healthier on radar and the structure wasn't bad either. We punched through a rather nasty core with some dime size hail and heavy rain and soon found the updraft base, which had a wildly rotating developing wall cloud.
We found a high spot and stopped to watch the third (or forth if you count the landspout) tornado of the day develop and just as it did a rain curtain began wrapping around the tornado. We moved about a half mile back to the south where we had a better view of the storm, but in the time it took us to get back into the van and move a half mile – that tornado had already lifted and I could still see the funnel cloud, nearly overhead with some wild cascading motion – that looked incredible to look nearly straight up and see that 'up and down' motion!
I knew I was in this things way – so we went back up the hill to try and get clear. That is about when the second tornado in the video below develops. It formed a truncated cone and was tearing through mesquite trees right in front of us, then it ripped up a well built fence along the highway and cross highway 173 just at the location where we were sitting just a minute earlier.
Again, that storm started moving away to our NE, we could still see the tornado as it moved away from us – but there were no roads and I wasn't about to attempt driving across muddy trails that are normally gravel roads in the Texas Hill Country.
So we had to let the storm go and quickly jumped onto another cell developing even further south near Pearsall close to I-35, but that storm was undercut just about the time that we got to it and the only thing left to do for the day was to get cored by the MCS that was just to our west.
We were under the squall line for about 15 minutes and at times the rain and hail were so heavy that we couldn't even see the road in front of the van. Finally we made it back to I-35 and the day was over for us, with the exception of a few more shots of the double rainbow that developed behind the squall line.
SUMMARY: 4 Tornadoes and 1 Landspout for a total of 5 Tornadoes for the day, a pretty exciting day for a less than marginal chance of tornadoes in southern Texas.