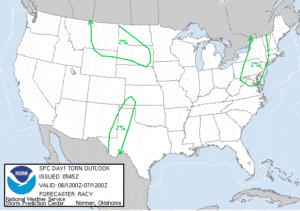 An amazing day of storm chasing in Montana started bleak and ended with a mini-tornado outbreak.
Moist upslope flow and weak large scale height falls were expected to encourage thunderstorm development across much of south-central Montana by mid-day. The Storm Prediction Center only issued a mere 2% chance of tornadoes, but we felt there was a good enough chance to warrant the drive to Montana.
We started the day in Casper, Wyoming and shot north into Montana.
We drove to Ekalaka, Montana and waited. After several hours, a high-based low precipitation supercell formed and quickly fell apart. Shortly afterward, another storm rapidly developed and intensified.
This storm had amazing structure and developed a rotating wall cloud. It didn't take long before a funnel formed on the southwest side of the storm and attempted to reach the cloud, but dissipated.
A second funnel then formed that wasn't connected to the updraft, then a debris swirl on the ground and then it connected to the updraft base. Yes, it was weird! The tornado stayed on the ground for several minutes before roping out.
The third funnel from this amazing little storm then formed and became an amazing elephant trunk shaped tornado with rapid cascading motion in the cloud base.
As if two tornadoes in Montana wasn't amazing enough, a fourth tornado formed as a truncated cone and lasted about five minutes before roping out. What an amazing day of storm chasing in Montana!