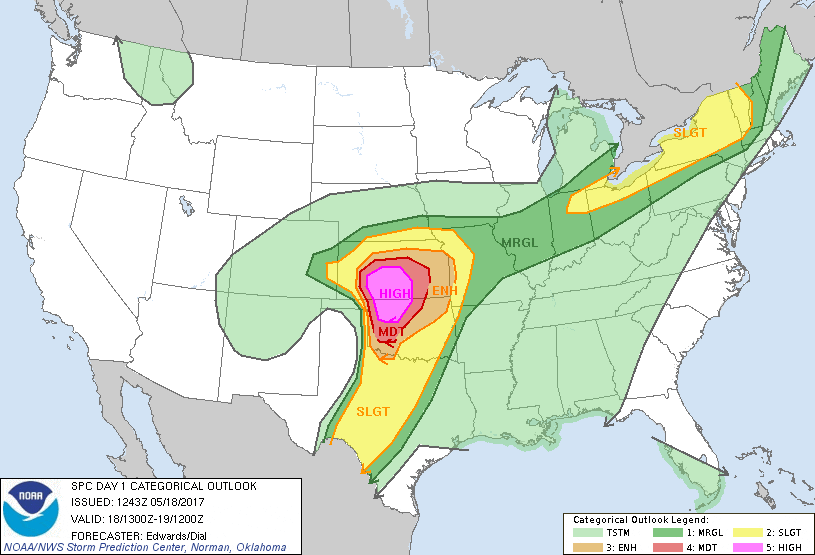 The day had incredible potential. Good shear, moisture and instability were all in place on a day that the Storm Prediction Center issued a High Risk for parts of Oklahoma and Kansas.
We started out from Oklahoma City and took our time getting to northwest Oklahoma. Our target area was generally between Seiling and Woodward, Oklahoma. But, we opted to stay east of the target area where we could monitor the day while having good road options.
As we were en route, we watched as the towering thunderstorms were growing along the dryline to our west. Canton, Oklahoma was our waiting area while we monitored visual satellite imagery.
Within an hour of arriving in Canton, the first Severe Thunderstorm Warning was issued. We had a pretty decent view of the storm and it looked ripe! We proceeded along Highway 51 towards Seiling, Oklahoma.
As we got closer to the storm, we had a better view of the storm's base, we could see a definitive lower on the storm. Soon, a funnel emerged from the rotating wall cloud and we had our first tornado of the day. That storm created two tornadoes.
Neither of these tornadoes impacted structures or they would have likely produced major damage. The first tornado roped out as it approached Highway 281 about 8 miles north of Chester at 3:36 pm CDT.
A second tornado quickly developed and that one was on the ground for 20 minutes before lifting just southwest of Waynoka. Both tornadoes exhibited behavior that you would expect with strong (EF2+) tornadoes.
Fun and exciting chase day in Western Oklahoma that ended with a large tornado and an amazing sunset that illuminated the supercell near Chester in Woodward County. Not every High Risk day ends up deserving of such an accolade, today certainly did!