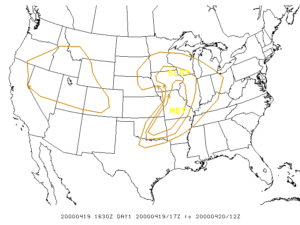 Severe thunderstorms developed ahead of a pre-frontal dryline just after 7 pm CDT.
The first supercell developed across Montgomery county, with the first brief tornado touchdown (F0) near Havana just before 8 pm.
The same supercell produced another brief tornado (F0) as it passed just south of Cherryvale. This storm intensified as it moved across northern Labette county and produced a longer track tornado (12 mile path) with F3 damage occurring in the city of Parsons around 8:50 pm.
The second supercell storm moved across Neosho county, producing a tornado southwest of Erie around 8:25 pm. This tornado produced F2 damage along its entire track across Neosho county.
Today was the first official organized storm chasing tour in our company's history. Last year, I took a paying passenger along on the chasing during the May 3rd Bridgecreek-Moore Tornado, to help cover expenses of the day. That event laid the foundation of creating a storm chasing company and today is the result of those efforts. We started our first tour from Tulsa and left for southeastern Kansas.
Cloud cover looked to be a problem early on and was keeping surface temperatures low. By mid-afternoon, the clouds began to erode away and with 3500+ j/kg of CAPE in-place. It was a matter of time before the heating was to break the cap.
A surface low was in-place in northern Kansas which pushed a cold front into SE Kansas and NE Oklahoma. The cold front was the focal point for late afternoon development.
I drove to Independence on Highway 75 and then turned left on 160 to 7-Mile Corner. Sitting near Cherryvale for about an hour, I began watching the cumulus beginning to tower.
Without anything more than a cell phone to use to retrieve any information, I hit the jackpot and was quickly on a forming supercell that produced a large tornado. The tornado damaged several structures but thankfully didn't produce any serious injuries.
The terrain was, of course, the biggest failure as the tornado formed in an area of thick trees and hills near the Cherryvale lake. As a result, there were limited road options coupled with a fast-moving storm that moved quickly to the northeast.