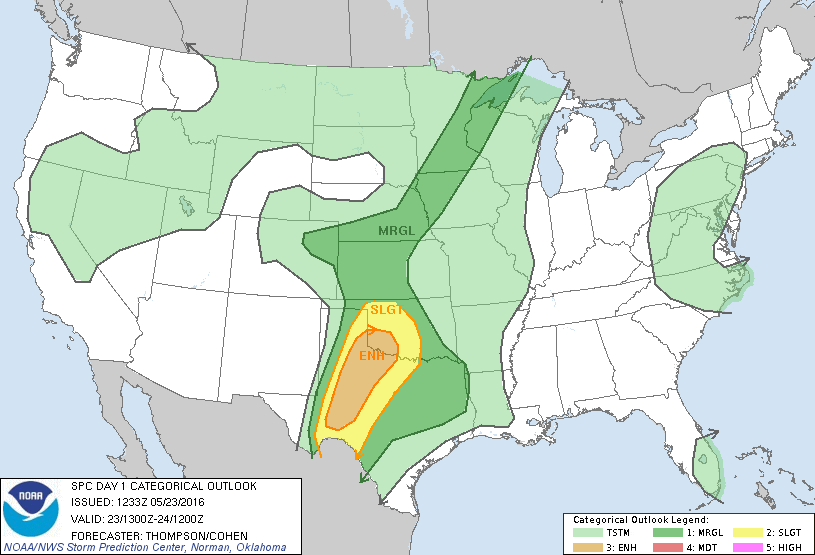 Storm chasing days like this are both frustrating and rewarding. The day ended with a tornado forecast validation. However, the tornado happened after sunset.
Chasing storms at night not only makes it more difficult to obtain good photos of the tornado. But also changes the way in which we pursue a storm due to possible flash floods.
The Storm Prediction Center had issued a Slight Risk covering most of western Texas and Oklahoma.
Additionally, an Enhanced Risk area was issued for much of the South Plains. The day, however, looked to struggle from limited moisture return.
We targeted an area just north of the Enhanced Risk area, hoping for the Caprock to provide its magic and create the lifting mechanism that would be needed for today's forecast.
We began the chase while flying the drone. I captured some nice videos of the beginning stages of the supercell while it was over farmland.
The storm began to rapidly intensify and came very close to producing a tornado quite a few times during the daylight. However, the supercell remained low-precipitation and never fully matured to the tornado producing stage.
Just after sunset, we were ready to give up because it became to difficult to monitor the base. As we were backing out to drive away, I caught a glimpse under the base when a lightning strike illuminated it – I thought I saw a tornado!
I pulled back into the spot and waited for the night lightning strike to once again illuminate the base.
Validating this tornado was difficult. The lightning wasn't constant enough to get a good visual. I knew from the radar that we were safe as we were a few miles to the east.
The radar was also indicating a velocity couplet, which helped to confirm my suspicion of a tornado. I decided to set up a still camera and take some long exposure photographs hoping that we'd get our confirmation from photo evidence.
Within a minute, another lightning strike backlight the base and I checked the camera – tornado confirmed! A few minutes after that we saw power flashes on the ground as the tornado was moving through powerlines and causing the transformers to explode.
We had to move further away than we'd normally attempt for safety reasons to continue to monitor the storm. Eventually, we were starting to get pinned in by the road networks.
Not wanting to travel through the Palo Duro at night during a potential flash flood, I decided to end the chase. We went south to get away from the storm, and then back west to the Interstate for the trip to Amarillo.
An exciting end to a mediocre chase day. All it took was a low-level jet to intensify after the sunset to give this little storm just enough to shear to create a tornado.