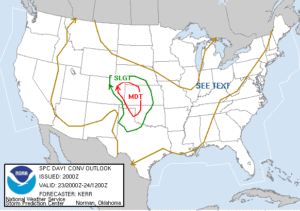 What a day this turned out to be! Not only did the folks on Tour 2 get an up and personal meeting with a tornado on the 21st of April. But, just two days later they saw seven tornadoes in Southwestern Kansas on the 23rd!
The day presented many challenges with a couple of interesting target locations. The Texas Panhandle and southwestern Kansas were both in-play.
The Storm Prediction Center issued a Slight Risk area extending from near Lubbuck, Texas to northwest in extreme southwestern Nebraska. Additionally, there was a Moderate Risk area covering most of western Kansas.
Starting off from Amarillo, Texas, our original target was the northern Texas panhandle. But, it became evident by early afternoon that it was the wrong play as moisture was just too limited in this area with low dewpoint values. We repositioned on the second area of interest in southwestern Kansas and northwestern Oklahoma.
The first storms of the day were intercepted near Buffalo, Oklahoma. We witnessed our first brief tornadoes of the day (I believe there were three out of this storm) just to the north.
That cell died out and a new cell formed on its southern flank. As a result, we drove north to intercept the new supercell as it crossed into Kansas.
When the storm finally caught up to us it went crazy! Producing tornado after tornado for a show that lasted several hours.
As the evening progressed and sunlight grew dimmer, we moved a few miles to the west and continued shooting video of this tornado producing beast.
We caught a total of at least seven tornadoes between these two supercells. Spending much of the early evening hours photographing lightning out of this thing as it moved away from us to the northeast.
What an incredible day for an already incredible tour!