1. The Twister Movie Museum – Wakita, Oklahoma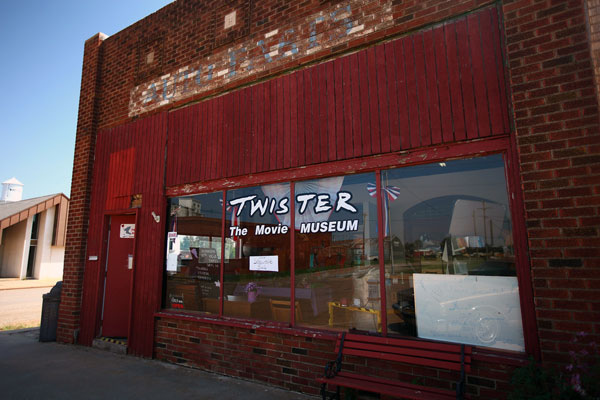 Calling anything in Wakita a "landmark" might be pushing things a little bit, especially in a town with only a 350 population, but just about any movie buff will recognize the town's water tower.
Wakita was, of course, the small Oklahoma town at the center of the Hollywood blockbuster Twister. The then-mayor came up with the idea to create a Twister Movie Museum. While small, the museum has an impressive amount of memorabilia from the 1996 film including "Dorothy" (the tornado probe) and several thousand photos. The museum's curator is super friendly and will always greet you with a warm welcome.
You may be interested to learn that Wakita has an interesting history when it comes to tornadoes. The town was named after a local Cherokee Chief Wakita (pronounced Wok-ih-taw) of local notoriety. As legend records it, Chief Wakita's tribe cast a spell to protect the area from tornadoes for at least 100-years.
Wakita was founded on September 16, 1893, and the post office opened on November 14. When Oklahoma became a state in 1907 the population was 388.
On May 10, 2010, a tornado outbreak occurred in Grant County and there were numerous tornadoes that caused damaged near Wakita. However, the town itself was not destroyed.